Ensure a Speedy Recovery Following
Lumbar Spinal Fusion Surgery...
Discover the Simple Exercise Program That Will Help You Strengthen Your Back & Eliminate Back Pain for Good!
Ideal for Individuals as well as Fitness Professionals
with Clients Who Have Recently Had
Lumbar Spinal Fusion Surgery
As a renowned Exercise and Injuries Expert, it continues to shock me how many people undergo lumbar spinal fusion surgery to relieve back pain, but then fail to complete the required exercise recovery program.
I urge you not to make this same mistake! You don't want to go through the discomfort and expense of surgery… only to reinjure your back and have your back pain return later.
Few things are more discouraging.
Still, far too many people give up on their exercise recovery program – so many that I decided to do something about it.
Here's what I've done:
I've found the absolute best exercises for Lumbar Spinal Fusion Surgery recovery. And I didn't stop there. I then determined the least number of exercises that you need to do and put them in the right order and the correct amount to create a program that covers all of the areas that need to be addressed in order to recover from lumbar spinal fusion surgery as quickly and as easily as possible.
In other words, I've created a program that is ideal for fitness professionals who are tasked with helping clients recover from lumbar spinal fusion surgery, as well as individuals who want to take more control over their own recovery.
This program includes descriptive guides and comprehensive videos that break down the exercises so that proper form is easy to learn.
So why spend all that money on surgery only to continue to feel pain because you were not committed to your recovery?
I understand people have busy lives with jam-packed schedules. That's why I've made this program not only highly effective, but also highly efficient.
You won't have to spend hours each day doing time-consuming exercises. With this program, you do exactly the exercises you need to do, in the amount and order you need to do them. There is no extra, no fluff.
Fitness professionals – your clients will love you! They will appreciate the impact of the program and the fact that it doesn't destroy their schedule and put them in a situation where they are in a mad rush trying to catch up all day.
If Nothing Else, Remember This: A Proper Recovery Exercise Program is ESSENTIAL Following Surgery!
Here are just some of the benefits of a good recovery program:
It will help you regain normal pain-free movement
It will build up strength in the area
It will ease pain and swelling
It will allow you to resume normal activities sooner
It will help with circulation, particularly right after surgery, so you do not have problems with blood clots and are ultimately able to recover faster
The problem with a lot of recovery programs that are available on the Internet is that you don't know the qualifications and expertise of the person behind them.
In other words, you just don't know who you can trust.
And doing the wrong exercises can do a lot more harm than good. You could actually make the back pain much worse – and that's after going through painful, expensive surgery!
I've seen individuals end up worse off than they were before. How depressing do you think it is to undergo a procedure to feel better, only to end up worse off than before? Well, I'll tell you – it is a tremendous gut punch that leaves many feeling depressed and distressed.
The simple problem in many cases was that they were doing the wrong exercises, which were aggravating their condition, rather than making it better.
These people lost years of pain-free movement simply because they chose to save a few bucks by using some exercises they found online, or by skipping out on the recovery program all together.
Let me stress: You just don't know the motivation or the knowledge level of some of these so-called 'experts' out there. It is much better to be safe than sorry.
Often with a lot of the free exercises that are out there, key components of a recovery program are missed. Also, the order the exercises are performed can be very important. Doing them in the right order can vastly increase their effectiveness.
You also need a program that really stretches the muscles and joints. This is vital for creating good range of motion and flexibility. In addition, after surgery, scar tissue forms and soft tissue contracts. That's why it is vitally important to stretch the area to maintain flexibility.
And one more thing – you need a program that strengthens the area where you had the surgery. This will help you increase stability and improve balance.
It just so happens that I've created a program that does both of these things – helping you to avoid reinjuring your back and feeling more back pain.
So Who Am I & Why Should You Listen to Me?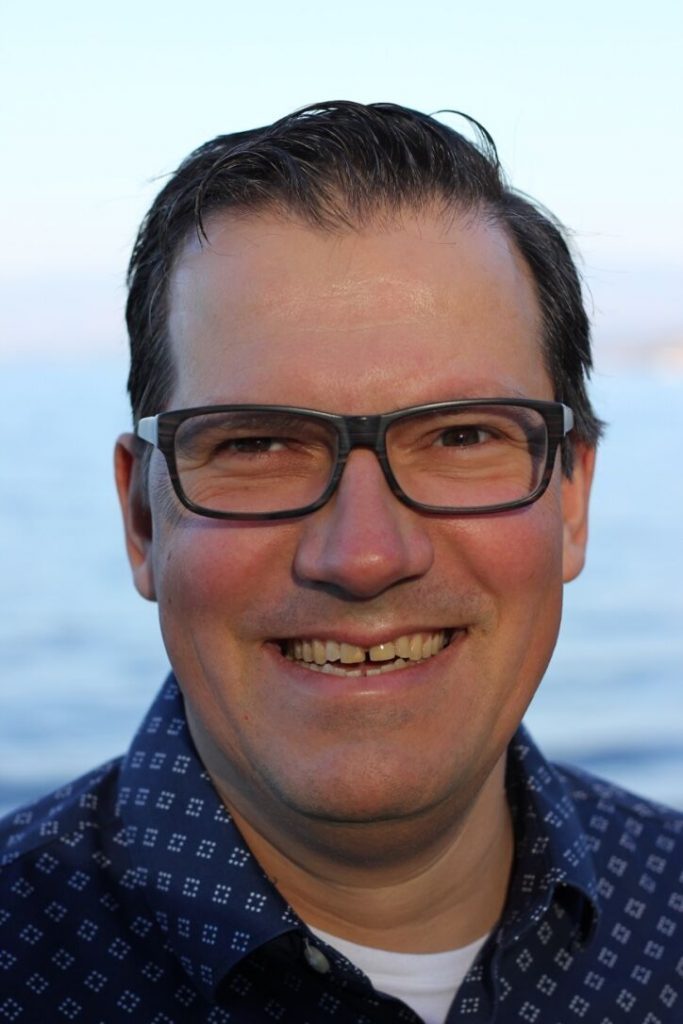 My name is Rick Kaselj, MS, and creating programs that help people heal injuries and eliminate pain is exactly what I do.
I started as a personal trainer, exercise therapist and kinesiologist, but quickly discovered that many of the traditional exercise and treatment programs weren't producing the results I wanted for my clients.
So I took it upon myself to get the right knowledge, scour the medical research, and do hands-on testing, so I could ACTUALLY help my clients get better.
With the advent of the Internet, I saw a terrific opportunity to offer and deliver my programs to many more people, so they too could finally get relief from pain, heal their injuries, and get back to the lives they enjoy.
My Lumbar Spinal Fusion Recovery Program is the result of 6 years of University study (including a Master's Degree in Exercise Science), over 24 years of hands-on experience, constant searching for the best lumbar spinal surgery recovery techniques, and teaching these techniques to thousands of other fitness & health professionals who have then used them to help their clients - plus thousands of personal training sessions with injury and lumbar spinal fusion surgery clients, and the careful scrutiny of over 8 medical studies.
What I've discovered is that the body is truly an amazing creation – capable of healing itself from some of the most horrific injuries, and by doing simple exercises, we can actually help our bodies heal even faster.
Now that I've told you about myself, let me tell you about my program.
Introducing the Lumbar Spinal Fusion Recovery Program

At last, there is a comprehensive, yet simple to follow program that contains the exercises you need to know to recover from lumbar spinal fusion surgery.
You receive manuals that walk you through the entire program in an easy to understand manner and videos that show you exactly how to perform the exercises… along with a lot more.
This program:
Breaks down how to recover from lumbar spinal fusion surgery using simple exercises that anyone can do, regardless of their age or physical condition
Shows you what exercises to do and the correct order to do them to get quick pain relief and speed up your recovery
Allows you to make the exercises easier or more challenging, depending on the severity of your injury
Gives you pain-relief techniques that you can start using immediately to melt your post-surgery pain away
Not only tells you what exercises "TO DO" but also what exercises to avoid because they are a waste of time or could make your condition worse
Reveals how to avoid the common mistakes that people often make with spinal fusion surgery recovery exercises
Plus, the program contains an assessment guide so that you can assess your condition following surgery.
It also includes a Quick-Start Guide that will show you the fastest way to get started so that you can enjoy pain relief as quickly as possible!
Here's Everything That is Included in the Program: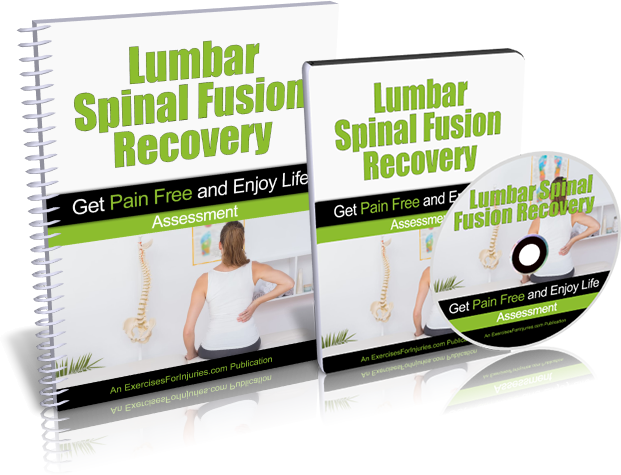 SELF-ASSESSMENT TOOLS:
You get a video, manual and fill-in sheet to help you assess your current condition. The video and manual walk you through how to assess your current condition following surgery. This is important to do because the level of pain and discomfort will differ from person to person. You'll record your assessment results on the fill-in sheet and based on your findings, you'll know exactly where to start in the Lumbar Spinal Fusion Recovery Program. This assessment process is critical to ensuring you get the best results possible from the program.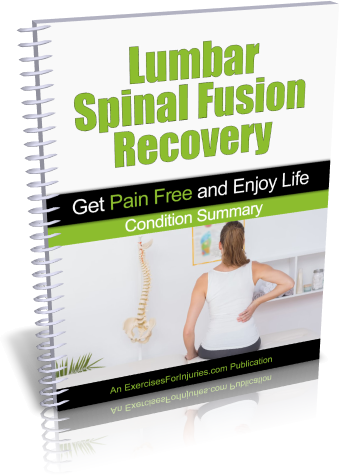 QUICK-START CHEAT SHEET:
The Lumbar Spinal Fusion Recovery Program is filled with a lot of beneficial information, but I want you to be able to get started and experience results as fast as possible. So, I created this guide which distills all the content down to the bare essentials you need to know to get started fast.
The Quick-Start Cheat Sheet lays out the exact roadmap you need to follow to regain pain-free movement.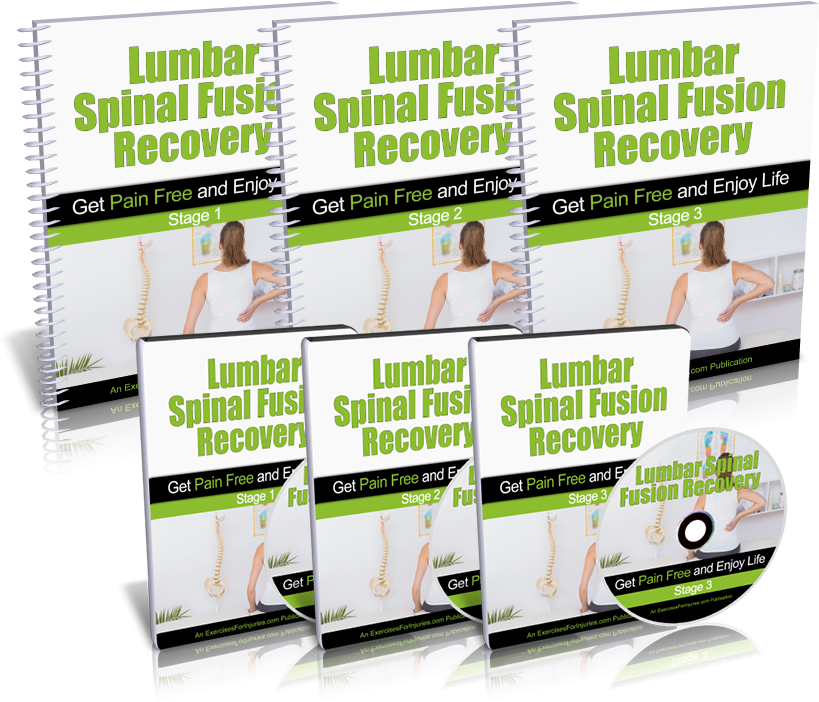 3-STAGE COMPREHENSIVE EXERCISE PROGRAM:
I've broken this program into three stages. The three stages allow you to self-direct your progress so you get the fastest possible recovery. The stages progress from very easy (Stage 1) to more challenging (Stage 3). This three-stage structure ensures that any person can complete this program and start enjoying pain-free movement again – even those who have severe pain or who have not exercised a day in their life!
For each of the 3 stages, you get 1 instructional video, 1 follow-along video, 1 manual, 1 guick reference guide and 1 tracking sheet – everything you need to achieve maximum results. Here's what comes in each:
INSTRUCTIONAL VIDEOS:
The instructional video you receive in each of the 3 stages is your virtual personal training session with me - Rick Kaselj, MS. In these instructional videos, I will:
Slowly Demonstrate STEP-BY-STEP exactly how to do each exercise perfectly, so you can definitely get it right
Show you ALL the common mistakes people make doing these exercises, so you also know what NOT to do
Give you everything you need – exactly how many reps and sets you should do, time and intensity, what you should feel as you do the exercises so you know you're doing them right and more.
FOLLOW-ALONG VIDEOS:
You also receive 3 follow-along videos - 1 for each of the 3 stages. These videos are your very own personal coaching sessions with me. In them, you will do each of the exercises following right along with my exercise assistant, who does them on video with you, while I count out time and reps, and coach you along the way.
MANUALS:
You receive 3 manuals - one for each of the 3 stages in the program. In these handy PDF guides, you'll have everything you need to use this program to reach your end-goal: recovering from surgery and strengthening your back so that you can enjoy pain-free movement. The guides include:
All of the gentle, but highly-effective exercises, stretches and movements you'll use in this program. Each is explained in detail, with precise step-by-step instructions.
Start-position and end-position photos for every exercise
Common mistakes and how to avoid them
Tips and advice on everything else you need to know, like: number of reps, number of sets, how long each rep should take, exactly what you should feel as you do each stretch and exercise so you can be sure you're doing them correctly, and how to progress if the exercises become too easy.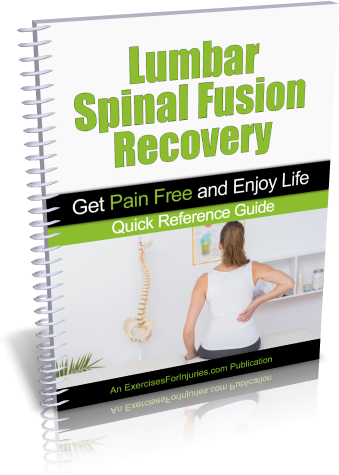 EXERCISE QUICK REFERENCE GUIDE:
As mentioned above, for each of the 3 stages in this program, you get an instructional video, a follow-along video, and a comprehensive manual.
Once you get into the program and start learning the exercises, you may want a faster, more convenient way to access the exercises, rather than having to fast-forward through the videos, and leaf through the larger manuals every time. That's exactly what this Exercise Quick Reference is for!
Every exercise in the program is laid out in this brief guide so it's quick and easy to find them, learn them and do them! For every exercise, there is a start and end photo, a quick summary of the exercise, and instructions on how to do it correctly.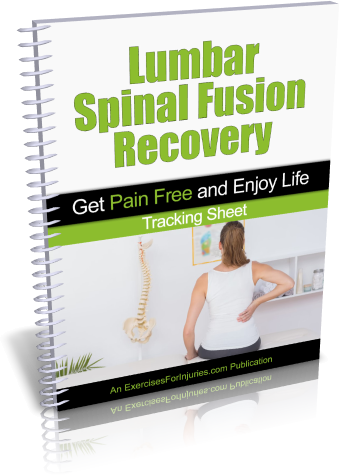 PROGRESS TRACKING SHEET:
In my more than 20 years of experience as a kinesiologist and injury expert, I've seen time and again that the people who measure their progress while they do my programs experience better and faster results than those who don't.
It's very important to measure your progress as you do this program. It will keep you on track. It will keep you motivated... which will keep you doing the exercises... which will actually get you the results you want. You simply cannot get the results if you don't do the exercises!
Take a Look at What Others Are Saying
About Me & My Exercise Programs:
"I just wanted to say thank you for providing what I needed to resolve my problem! After following your exercises, I went through work all day with no pain and no pain medication."

- Tracy Walker,

North Carolina
"This program was very informative and it is wonderful to be able to get good education and information in such a convenient way. It's also great to have the program on hand to review at a later date. It's a quick and convenient way to keep up to date in our field. Thank You."

- Pia Jmioff,

Penticton, BC, Canada, Certified Exercise Physiologist
"I want to thank you for the great information."

- Paula Powell
"As a Kinesiologist working in a physiotherapy clinic, I can apply the information that I learned in the Lumbar Spinal Fusion Recovery Program to post-op patients recovering from spinal surgery. The program increased my knowledge of spinal fusion surgeries and gave me exercise progression that I can use for clients recovering from spinal fusion."

- Peter Stangolis,

Certified Kinesiologist, Toronto, ON
"Thank you, Rick. You saved my career!"

- Marco Mura,

Sardegna, Italy
"I am so grateful for Rick's programs and wish I could afford all of them."

- R. Theodore,

York, Pennsylvania, USA
"Before I used the information, I couldn't walk normally for at least the first 15 minutes each morning. After using the program, I only have a little pain, but it eventually all got better with continued attention."

- Cher Anderson,

Athens, TN
"Again, many thanks for your practical wisdom and easy-to-understand explanations. I live in New Zealand, and if you are ever down this way, I would love to meet you and shake your hand."

- Arthur Barnes,

Whangarei, Northland, New Zealand
"Your exercises have changed my life. I had been in constant pain for 15 years."

- Shelley Watson,

Carmel, CA
Get the Lumbar Spinal Fusion Recovery
Program & Feel Better Fast
Imagine knowing with certainty that you are doing the absolute best exercises for your back, in the correct amounts and at the right time …
Imagine being able to recover from your surgery faster and easier than you ever hoped possible …
Imagine being able to move pain-free once again …
The Lumbar Spinal Fusion Recovery Program is filled with the expert tips and exercises that will allow you to eliminate discomfort and pain as fast as possible.
Plus, with the videos, you can see exactly how to do the exercises, so you can avoid using bad form which could negatively impact your results.
Save yourself money and frustration – get The Lumbar Spinal Fusion Recovery Program today and restore pain-free movement!
Order Now & Get This Entire Package
for Just $37!

(Regular Retail Price = $57)
Special Discounted Price
(ONE-TIME OFFER!) = $37
Get INSTANT ONLINE ACCESS to the Lumbar Spinal Fusion Recovery Program.
You get lifetime access to everything 24/7/365, on any computer or mobile device.
Don't risk doing the wrong exercises that can make your condition worse.
This program is not just a bunch of exercises thrown together with the hope that they will relieve your pain. This is a carefully designed system that has already helped many people decrease and eliminate their back pain.
The Lumbar Spinal Fusion Recovery Program is the result of years of scholarly medical research and feedback from real-world tests and experiments with hundreds of clients.
With this program:
You will know exactly how many reps to do
You will know exactly how many sets to do
You will know exactly what intensity you should do each exercise with
You will know exactly how your body should feel when you do each exercise correctly
Nothing is left out – there will be no guesswork or confusion about what to do.
Everything in this program is systemized and laid out perfectly and clearly for you so that you eliminate your pain.
Get The Lumbar Spinal Fusion Recovery Program today! For just $37 you could save hundreds in medical costs.
Let Me Recap, Here's All That You Will Get
When You Order Now:
SELF-ASSESSMENT PACKAGE

Video, Manual And Fill-In Sheet To Help You Assess Your Current Condition
(1 Video, 1 Manual PDF, 1 Fill-In Sheet PDF)

($57 value)

QUICK-START CHEAT SHEET

(1 Condition Summary PDF)

($27 value)

3-STAGE COMPREHENSIVE EXERCISE PROGRAM

Your personal training and coaching sessions with Rick Kaselj, MS
(6 Videos, 3 Manuals PDF)

($137 value)

EXERCISE QUICK REFERENCE GUIDE

(3 Quick Reference Guides PDF)

($27 value)

PROGRESS TRACKING SHEET

(3 Progress Tracking Sheets PDF)

($27 value)

> > >  TOTAL VALUE OF ALL COMPONENTS (7 videos, 12 PDFs)

$275.00

> > >

REGULAR PRICE

$57.00

> > >  YOUR PRICE (FOR A LIMITED TIME!)

$37.00
Easy-to-perform but highly effective exercises with complete videos and instructions
Assessment tools to determine the severity of your injury so you know the best way to proceed
A Quick Start guide that tells you exactly where to start and what to do to achieve the fastest results
Complete exercise blueprints to promote healing of your back
Step-by-step, easy-to-understand techniques for eliminating back pain
And much, much more
Plus, With My Unconditional 100% Money-Back Guarantee,
You've Got Absolutely Nothing to Lose!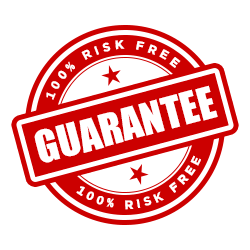 I am so sure that you will love the Lumbar Spinal Fusion Recovery Program that I am offering an unconditional 100% money-back guarantee.
If you are not completely satisfied with your purchase, simply notify me within 60 days and I will refund your money, in full, with absolutely no questions asked!
That's EIGHT FULL WEEKS to put this program to the test! I don't think I can be any fairer than that. Eliminate your back pain or get your purchase price back!
Now in Just Minutes a Day You Can Speed Up Your Post-Surgery Recovery & Put an End to Painful Movement
Watch the videos when and where
it is convenient for you!

(Regular Retail Price = $57)
Special Discounted Price
(ONE-TIME OFFER!) = $37
Get INSTANT ONLINE ACCESS to the Lumbar Spinal Fusion Recovery Program.
You get lifetime access to everything 24/7/365, on any computer or mobile device.
To your health and well-being,
Rick Kaselj, MS
Injury Specialist & Kinesiologist
P.S.
Don't open yourself up to re-injury and even worse pain than before!
Get the
Lumbar Spinal Fusion Recovery Program
and get the exercises you need to strengthen your back. You can do this video exercise program at home, completely on your own. You get the scientifically-proven exercises that are shown exactly how they should be performed. This program is also ideal for fitness professionals to use with their clients. The videos show you how to do each and every exercise perfectly, in exactly the right sequence, with exactly the right number of reps and sets, all laid out for you.